Toaster cleaning hacks can help you effectively clean your toaster and keep it in good condition. We will discuss some simple yet effective techniques to clean your toaster and eliminate crumbs, stains, or burnt debris.
These hacks will not only save you time but also ensure that your toaster operates efficiently, preventing any potential fire hazards or unpleasant odors. So, let's dive into these toaster cleaning hacks and keep your toaster looking and functioning like new.
Unveiling Toaster Cleaning Hacks: 7 Genius Approaches
Regular toaster maintenance is crucial for ensuring its longevity and optimal performance. Cleaning your toaster regularly not only removes crumbs and food residue but also helps eliminate the risk of fire hazards.
To start with the cleaning process, make sure to unplug the toaster and let it cool down completely to avoid any accidents or injuries. Use a soft brush or toothbrush to gently remove the crumbs from the interior and exterior of the toaster. For stubborn stains and grease, create a mixture of warm water and mild dish soap, and wipe the surfaces with a damp cloth.
Pay extra attention to the toaster's heating elements. Use a clean, dry cloth to remove any residue, as buildup can cause uneven toasting and affect the toaster's performance. Additionally, consider using a toaster cover or crumb tray to prevent debris from accumulating inside the appliance.
Regularly cleaning your toaster and following these simple hacks will not only keep it looking clean but also ensure that it continues to function efficiently for years to come.
Essential Tools For Immaculate Toasters
When it comes to toaster cleaning hacks, it is important to have the right tools to ensure a thorough and efficient clean. Here are some essential tools to have in your cleaning arsenal:
| Tools | Description |
| --- | --- |
| Non-abrasive cleaning agents | Use gentle cleaning agents specifically designed for toasters to avoid damage. |
| Brushes and microfiber cloths | These tools are perfect for removing crumbs and debris from the toaster's interior. |
| Protective gloves | Wear gloves to protect your hands from any chemicals or residue. |
| Safety tips | Ensure the toaster is unplugged before cleaning and never immerse it in water. |
With these essential tools, you'll be well-equipped to keep your toaster immaculately clean and in perfect working condition.
Hack 1: Crumb Catastrophe Aversion
Slide out the crumb tray
Shake out the crumbs
Wipe down the tray
When it comes to toaster cleaning, following these simple steps will help you prevent a crumb catastrophe. First, unplug your toaster and allow it to cool down. Then, slide out the crumb tray located at the bottom of the toaster. Once removed, shake out the crumbs over a trash can or sink. Finally, wipe down the tray with a damp cloth to remove any remaining debris. By regularly performing this quick cleaning routine, you can maintain your toaster's functionality and avoid potential fire hazards. Keep your toaster clean and enjoy delicious toast every time!
Hack 2: Interior Intensification
Mix equal parts of water and white vinegar in a small bowl. This mixture will effectively remove stubborn stains and grease buildup from the interior of your toaster.
Once you have prepared the cleaning mixture, dip a toothbrush into it. Gently scrub the nooks and crannies of the toaster, such as the corners and edges. The bristles of the toothbrush will help dislodge any dirt or crumbs that may be stuck in these hard-to-reach areas.
Next, dampen a cloth with the cleaning mixture. Wipe the interior of the toaster, paying extra attention to any visible stains or residue. The cloth will absorb the cleaning solution, and its gentle rubbing action will help remove any remaining dirt or grime.
Hack 3: Exterior Excellence
One essential hack for keeping your toaster looking brand new is polishing the exterior surfaces. To achieve a gleaming finish, mix a solution of warm water and mild dish soap. Dip a soft cloth into the solution and gently wipe down the exterior, removing any dirt, grease, or fingerprints. Be sure to wring out the cloth so it is damp, not soaking wet. For stubborn stains or grime, you may need to apply a bit more pressure, but be careful not to scratch the surface. Once the exterior is clean, use a dry cloth to buff and polish the toaster, leaving it shiny and spotless. Remember to unplug the toaster and allow it to cool before cleaning. By incorporating this simple cleaning routine into your kitchen maintenance, your toaster will always maintain its exterior excellence.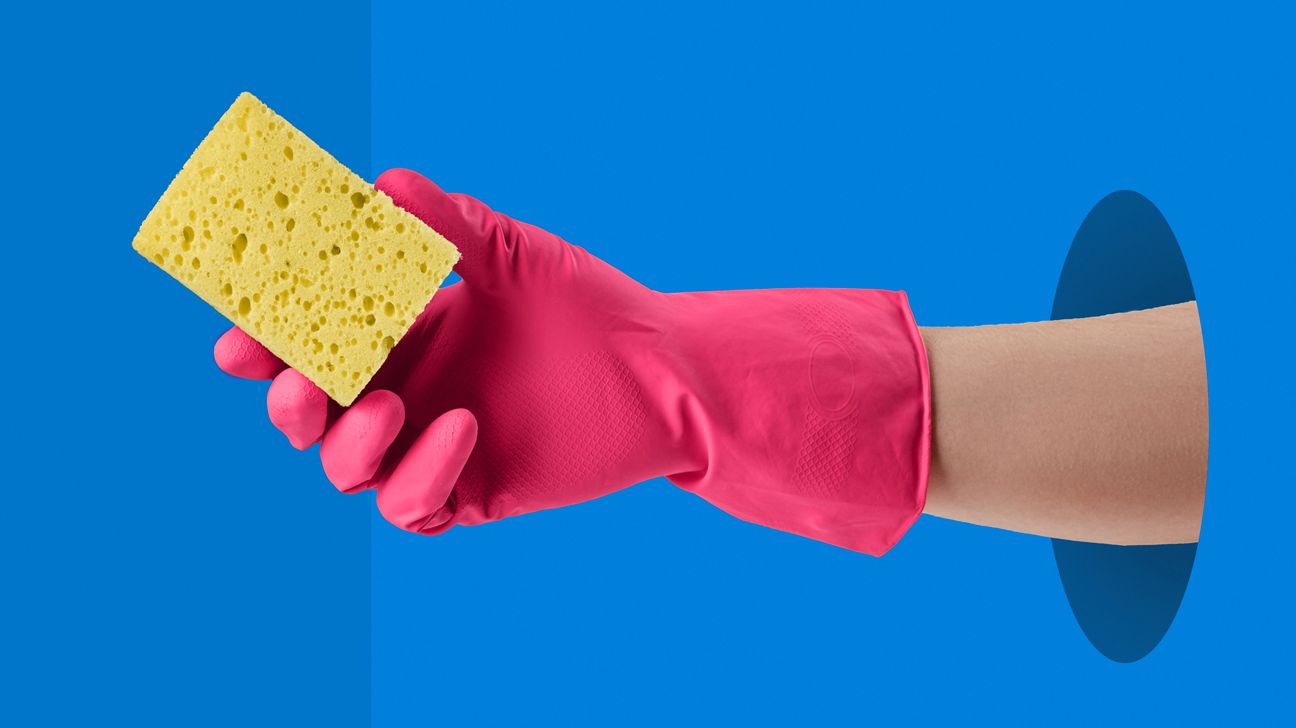 Credit: greatist.com
Hack 4: Spots And Stain Annihilation
Toaster cleaning can be a breeze with these simple and effective hacks. When it comes to spot and stain annihilation, targeting stubborn residues is key. One way to tackle these tough spots is to make a homemade paste using common household ingredients. Mix together equal parts of baking soda and water to create a thick, paste-like consistency. Apply the paste to the affected areas and let it sit for a few minutes. Then, use a gentle scrubbing technique to remove the residue. Another method is to use a mixture of vinegar and water. Simply dampen a cloth with the mixture and gently wipe away any stains or spots. Remember to always unplug your toaster and avoid using abrasive cleaners or brushes that could damage the surface. With these hacks, your toaster will be sparkling clean in no time!
Hack 5: Lever And Knob Sparkle Restoration
To restore the sparkle of the lever and knob on your toaster, you can use a diluted vinegar solution. Simply mix equal parts of vinegar and water in a small bowl or container. Dip a Q-tip into the solution and use it to clean the lever and knob, making sure to reach all the nooks and crannies. You can also use the Q-tip to gently scrub away any dirt or grime that may have accumulated. Once you have cleaned the lever and knob thoroughly, use a clean, dry cloth to wipe away any excess moisture. Finally, give the lever and knob a few finishing touches by using a microfiber cloth to buff them to a shine. With these simple steps, your toaster's lever and knob will be restored and look as good as new!
Hack 6: Dealing With The Heating Elements
Use vinegar steam to loosen debris: Fill a bowl with equal parts vinegar and water and place it in the toaster. Turn on the toaster and let it run for a few minutes to create steam. The steam will help soften and loosen the built-up debris.
Cooling before the final wipe: After using the vinegar steam method, ensure the toaster has cooled down completely. Then, take a damp cloth and gently wipe away the loosened debris. Make sure the cloth is not dripping wet to avoid any electrical hazards.
Hack 7: Regular Routine Rewards
Toaster cleaning is an essential task to ensure safe and efficient operation. Hack 7 emphasizes the importance of regular cleaning to maintain your toaster's performance and extend its lifespan. By incorporating quick daily wipe-downs into your routine, you can prevent a build-up of crumbs and debris, minimizing the risk of fire hazards. Regular deep cleaning is also necessary to remove stubborn residue and maintain the toaster's appearance.
Avoid using harsh chemicals or abrasive materials when cleaning your toaster. Instead, opt for a mixture of mild dish soap and warm water. Gently scrub the exterior and removable parts with a soft cloth or sponge. For hard-to-reach areas, use a small brush or toothbrush. Rinse and dry thoroughly before reassembling and plugging the toaster back in.
By following these simple cleaning hacks, you can keep your toaster in top shape and enjoy perfectly toasted bread every time without any unpleasant odors or burnt residue.
Final Touches And Maintenance Tips
Properly storing your toaster is essential for maintaining its cleanliness and functionality. After cleaning, make sure the toaster is completely dry before putting it away. Store it in a clean and dry location away from moisture and dust. Cover it with a clean cloth or towel to protect it from any potential damage or debris.
Avoid common cleaning mistakes that can harm your toaster. Never submerge the toaster in water or any liquid, as this can cause electrical damage. Instead, use a damp cloth to wipe down the exterior and interior surfaces. Avoid using abrasive cleaners or scrubbing brushes that may scratch the toaster's surface.
By following these proper storage techniques and avoiding common cleaning mistakes, you can ensure the longevity and optimal performance of your toaster, keeping it in top condition for years to come.
Frequently Asked Questions Of Toaster Cleaning Hacks
How Can I Clean My Toaster Easily?
Cleaning your toaster can be easy by removing the crumb tray, wiping the exterior with a damp cloth, and cleaning the interior with a mixture of vinegar and water. Avoid using harsh chemicals and always unplug the toaster before cleaning.
Can I Use Water To Clean My Toaster?
It is not recommended to use water directly on the inside of your toaster. Instead, wipe the exterior with a damp cloth and remove the crumbs from the crumb tray. If there are any stubborn stains or grime, use a mixture of vinegar and water to clean the interior.
Why Does My Toaster Smell Like Burnt Toast?
If your toaster smells like burnt toast, it could be a sign that there are crumbs or food debris stuck inside. Clean the crumb tray and the interior of the toaster to get rid of any residue that may be causing the smell.
Conclusion
Keep your toaster clean and functioning properly with these simple cleaning hacks. By regularly removing crumbs, wiping down the exterior, and deep cleaning the inside, you can extend the lifespan of your toaster and ensure it continues to toast your bread evenly.
Remember to always unplug the toaster before cleaning and use non-abrasive materials. Incorporating these easy cleaning tips into your routine can help you maintain a clean and efficient toaster for years to come. Don't neglect your toasting companion – give it the cleaning it deserves!